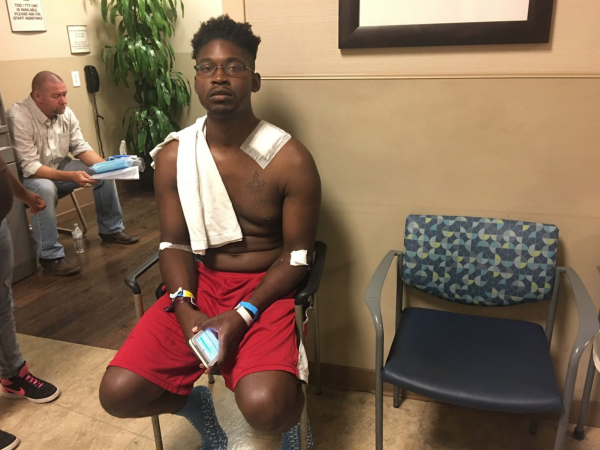 Violence comes in different sizes, shapes and methods. And the pain for all continues…
I've always been an emotional person. And I find as I get older, even more so. Friends have told me they have experienced this as well. Over the years, I've found that beautiful music, beautiful or touching words, and especially sadness seem to tear at my heart more and more. As an avid movie-goer, crying has often been part of that experience. I still cry on occasion for my dog CHARLIE who I had to put down almost ten years ago. And then, there are the all too often acts of violence and terrorism that rock cities all over the world.
Since 9/11, more and more people have been moved by the numerous, terrorist-related events which seem to now make the news on an almost weekly basis. Here in Chicago, the gang-related gun violence takes a toll every week. As of this date in Chicago, 566 people of all ages have been shot and killed, and 2682 have been shot and wounded. Read more here. What recently took place in Las Vegas and at a Baptist Church in Sutherland Springs, Texas, takes it all to a new, frightening and disgusting level of gun violence. Add in the weather-related disasters in Texas, Florida and Puerto Rico, where there's been a loss of life and home and the loss of the ability to make a living, at least for the time being … there seems to be sadness everywhere.
Each morning when I wake up, I turn on the television, and after checking the local news and weather, I move on to CNN. On many mornings during the past several months I've had tears in my eyes listening to the various survivor interviews from these life-altering events. In both Vegas and Texas there were stories of spouses, parents, friends and even strangers, laying over one another for protection, many of whom were wounded or killed. In Vegas, strangers were protecting and helping others escape, often loading wounded victims into cabs, cars or pickups, in an effort to get them to the hospital, while risking their own lives.
The Las Vegas massacre… How could anyone have done more?
One evening not long after the Oct.1st Las Vegas shootings, Erin Burnett of CNN did an interview with Jonathan Smith, a young man of 30, who kept going back to save some 30 people, none of whom he knew. Even when he too was wounded twice, with one bullet going into his neck, he continued to try and help, until he couldn't. Fortunately, an off duty police officer came to Jonathan's rescue, by placing two fingers in his neck wound in an attempt to slow the bleeding. Jonathan Smith is for sure a hero, although he says not.
There were many heroes that night in Vegas at the Jason Aldean concert, not far from the Mandalay Bay Hotel. And there was one coward … A coward of horrific proportion and purpose who eventually took his own life rather than face the consequences; likewise, at the shooting at the Baptist Church, in Texas last week. Those two incidents will add to the NRA gun debate. Which I won't go into that now, even as we approach the 5th Anniversary of the murders at the Sandy Hook Elementary in Newtown, CT, with so little being done.
The bottom line…
This week's blog is about feeling.  Its about emotion.  It's about the tragedy of violence, loss, pain and heartache … And it's about the on-going injustice I see in our country when the truly guilty take advantage of our system and our way of life. So often… no make that too often, those truly guilty of committing murder  are being kept alive at the expense of good citizens who obey the law. It leads me to tell you that in some, but not all instances of violence resulting in death, I am not embarrassed to say: I favor capital punishment. Again, "in some instances, I favor capital punishment."  This is a topic I hope will draw questions and answers from others. It is open for debate. And as a life long Liberal I am very comfortable in my opinion.
All the pain and heartache I heard and saw in the faces of those telling their stories about the shootings mentioned above take a toll on most who viewed and or read these accounts. But there is one particular story I read a week ago, which most have not heard of, that really got to me. There were no guns or knives, no bombs, no cars or trucks running people over.
It was the story of the death of a six-year old boy who was allegedly starved to death by his parents. When he died, he weighed 17 pounds. 17 pounds!! The average adult human head weighs between 8-12 pounds.  A bowling ball weighs 15 pounds. A medium bag of dog food weighs 15 pounds. And this poor child died weighing 17 pounds…
Capital punishment? You bet, and not 10, 15, or 20 years down the road. Next week would work for me.
Peace. I am Bob Danon, and integrity does matter.
 You will find The Brokennews NeWerd Dictionary by clicking here.
 Got something to say? Make that call and let your voice be heard…
The Congressional Switchboard: Call your Representative or Senator- 202-224-3121