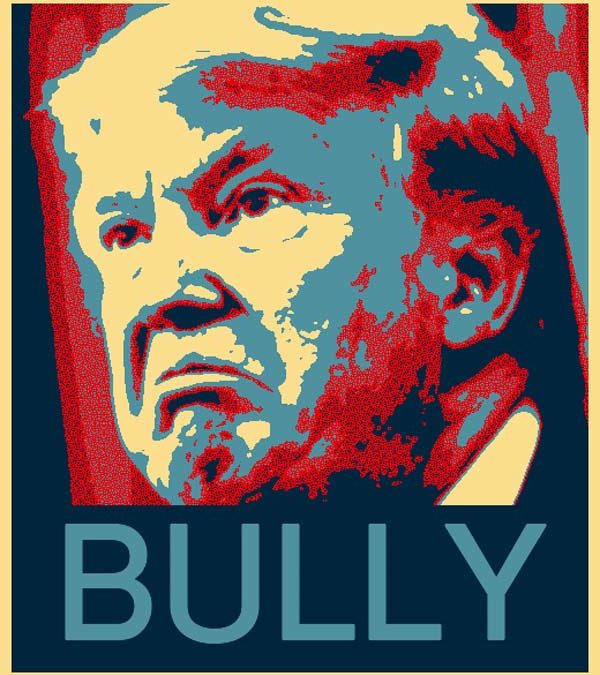 So here's the joke – A guy named Trump walks into the White House…
A.  A bad joke?
B.  A sick joke?
C.  A stupid joke?
D.  A disgusting joke?
E.  A joke most will regret?
F.  All of the above?
Answer: F., And for sure, a whole lot of A.
It's about control, power and being a thug…
It seems that Mr. Trump really gets off on pushing people around. He is considered by many to be a liar of the highest order. What made that so easy for him? Up until he was elected as POTUS 45, he was accountable to no one. And now he struggles greatly because he is accountable to the United States of America… That would be you and me. But he doesn't get it and fights it every day. Mr. Trump thinks everything is about him, and only him.
He treats few with respect, and many with contempt. He seems to be totally intimidated by women. The men he seems to rely on the most are- "Bullies goons and thugs…" Click here:
(nydailynews.com)
Michael Cohen — "If somebody does something Mr. Trump doesn't like, I do everything in my power to resolve it to Mr. Trump's benefit," Cohen, 48, said in a 2011 ABC News interview. "If you do something wrong, I'm going to come at you, grab you by the neck, and I'm not going to let you go until I'm finished." (New York Daily News- 07/29/2015) Typical Michael Cohen. And then there is the infamous "You can't rape your wife") statement:
Marc Kasiwitz, a high level personal attorney of Donald Trump's was going to help POTUS 45 with the Russia Case, but he only lasted a few weeks. I'm not exactly sure why…Maybe because of statements like- "Watch your back bitch…" 
John Dowd, a so-called "prominent Washington criminal lawyer," is the Kasiwitz replacement. Dowd took over on 07-21-17, although Kasiwitz will apparently remain as some sort of advisor. Mr. Dowd is known to be a bit hot-tempered, and that should serve him well if he's working at the White House. By the way, Dowd's legal expertise is in representing those accused of white collar crimes. That should serve the Trump Team well… Pardon me! Pardon who…?
(Observer.com)
(Nationalreview.com)
Roger Stone has been referred to in media variously as a "political dirty trickster," a "renowned infighter," a "seasoned practitioner of hard-edged politics" and a "veteran GOP strategist".Over the course of his political career, Stone has been widely regarded as promoting a number of falsehoods and conspiracy theories." Click here: Mr. Stone has a tattoo of Richard Nixon on his back. Did all Nixon aides have the same?
Donald Trump – "Thug-in-Chief"
As far as I can tell, the only good that I find in Trump being elected is that he has quite unintentionally brought forth the very clear vision of just how screwed up our government is. That would include most, if not all Republicans, Democrats, and Independents. Much more on that topic at a later date…
Other "Thugs" of note: For sure, Kim Jung-Un is a thug, and one for all heads of state to be very nervous about. And then there is Trump's boy is Russia, the one Trump clearly looks up to, the one and only Vladimir Putin. It would seem Mr. Trump wishes he could be more like President Putin. Fortunately for us and the rest of the world, Mr. Trump lacks the brains, the knowledge, the guts and the wherewithal or the political control to come even close. The question still remains, how much more damage will Trump cause in pursuit of a throne?
Super Dude Mooch just loves Mr. Trump!
(Photo by Todd Brent)
The bottom line…
Anthony Scaramucci — He, too, I suspect is a thug, as well as being the new White House Communications Director. He is the "new kid on the block," and is sooooo in "love" with Donald Trump, which is kind of weird, maybe a little scary and a little off the wall. This slick, Wall Street financier from Long Island is clearly a New York boy and is not a favorite among others at the White House, such as Rance Priebus and Steve Bannon. I predict it will be very interesting to see how all that plays out, and whose head rolls first.
I don't know enough about this new, ultra-smiley-face, Fashion Magazine Cover Boy to say he is a "Thug," but I wouldn't be surprised. After all, it seems Trump is bringing in more NY Street Fighters to help him with his image and "his" White House agenda. And by now, all should be aware that Trump does believe the WH is "his." And everything is about him, his inaugural crowd, his family, his businesses, and him, him, him. Mr. Trump's seems to have an attitude of "screw the country and full speed ahead…"
So how much does *Scareamooch "love" Mr. Trump? I say it's all BS and that Anthony is there for the short haul; he's there to keep flashing his teeth, enhance his image, gain the trust and confidence of Trump supporters, and quite possibly run for office himself someday. And we should all fear the level of his pursuit. He appears to be quite the flip-flipper… Take a look at some of Mooch's deleted tweets-
07-25-17, Tuesday morning add on: Senator John McCain will be back in the Senate today for the attempted AFA, Obamacare repeal. My hope is that the good Senator votes against the repeal with the following simple logic: "I cannot vote to repeal Obamacare! It needs some serious tweaking, but not repeal. I want the American people to have the same, fine medical care I have always had, and continue to have. It's time we politicians started taking care of all Americans, not just ourselves…"
Probably not gonna happen, but it would be one of the truly great political moves ever… Whatever happens, Thank you John McCain for your years of service. Be well, stay well, and hang in there…
Peace. I am Bob Danon, and integrity does matter.
This week's NeWerd is… * Scareamooch – He loves Mr. Trump, he lies for Mr. Trump, he spreads BS for Mr. Trump, and he can Scare a country… along with Mr. Trump.
You will find The Brokennews NeWerd Dictionary by clicking here:
Got something to say? Make that call and let your voice be heard…
The Congressional Switchboard: Call your Representative or Senator- 202-224-3121