"INEQUALITY SPARKS BLACK FLIGHT FROM CITY…"
When I first read Mary Mitchell's column in last Sunday's Chicago Sun-Times, June 04, 2017,  I was a bit stunned by the numbers she was quoting. It wasn't just the shootings and deaths- "Over a 15-year period, there were 5,600 murders and nonfatal shootings in three predominantly black Chicago neighborhoods: Englewood, West Englewood, and Austin." Mary pointed out that- "Those neighborhoods also had a 28 percent decrease in black population." You can read Mary Mitchell's entire column here:
As Mary went on to explain, it wasn't just the violence, it was also the lack of opportunity for blacks in Chicago. "After a lifetime of living in Chicago, my husband is seriously talking about moving away. He cited high taxes, crime, and bad politics. Black people are are fleeing the city's predominantly black neighborhoods on the south and west sides. Chicago, once a haven for the black middle class, is no longer seen as a place of economic opportunity for African Americans."
Mary and her husband have lived the "black experience" their entire lives. I have only observed that experience. I did however observe it in ways up close and personal,  to a far greater degree, than experienced by many I have met over the years and many of those I know today. You see, I grew up in Hyde Park, on Chicago's south-side, back in the 1950's-60's. It was an amazing childhood both through elementary school and high school. There was racial balance, respect and lifelong friendships as a result. I have always been proud to say that my Liberal roots were sewn in Hyde Park. Just as many in Evanston can make that same claim.
From the time I was seven, much of my early life was spent at the Hyde Park Y.M.C.A. During the school year I took various after-school classes there- gymnastics, swimming lessons and swim team, basketball, and leadership programs. The summers were spent at either a Y.M.C.A., or  Chicago Park District Day Camp. There was "racial balance and respect throughout."
My years at Hyde Park High School during the early-mid 60's had a student population that was at least 60% black. We had no racial issues. There were parties, interracial dating, neighborhood clubs, scouts, church choirs, and of course the anchor I believe was the University of Chicago. There were so many interracial friendships I can't even break it into numbers or a percentage.
My other life…
My life for the last 41 years has been owning an art gallery and a custom picture framing business. I own the Danon Gallery, in Evanston, Illinois, which in many ways was and is like Hyde Park. The art gallery pays the bills, but over the years, writing has been my passion. And that passion led me to my on-line blog brokennews.press. I've been writing it for a year now and I love it. The writing gives me a chance to vent, express, stimulate and to reach out, hoping to make a point or sway an opinion. At the same time, it forces me to often read or listen to other points of view I don't necessarily agree with, but I have learned to appreciate the experience.
Six or seven times a year I hold art shows in my gallery called "3rd Thursday Gallery Shows." The last one was May 18th and I featured two wonderful Evanston artists, Sarah Kaiser and Fran Joy. Fran painted the image you see at the top of this page back in 2014. The painting is of a young, teenage boy she met at Cabrini Green some 20 years ago while counseling his parents. At the time, the boy sat across the room, silently and maybe nervously fidgeting. Fran never knew the young man, but she has carried that experience, and that boy's face in her mind and heart all these years.
The bottom line…
Of all the works Fran Joy has in my gallery, this one struck home the most. I didn't realize why at first, I just knew I liked it. A little over a week ago I decided I had to have it, still not knowing why, until… Until a young couple came in my gallery last Saturday, 06/03. They admired all the work in the gallery but stood staring at "I want to live!" I proudly told them I was going to buy it from the artist. They asked me what it was that I saw in that particular painting.
I stared at the painting on the wall for maybe a minute. As I did, I started to get choked up, and fighting back the tears, and not very successfully I said- "when I look into his eyes, I see the liberal roots of my childhood, I see the fear and pain in his unfair world, that maliciously singles out boys like that… which forces those words from his lips." I could barely hold it together. Several hours later I saw Fran Joy at another Evanston Art show and related this experience to her, again barely holding back my tears. She started to shake, herself ready to cry, feeling the pain and tension in my words across the three or so feet that separated us.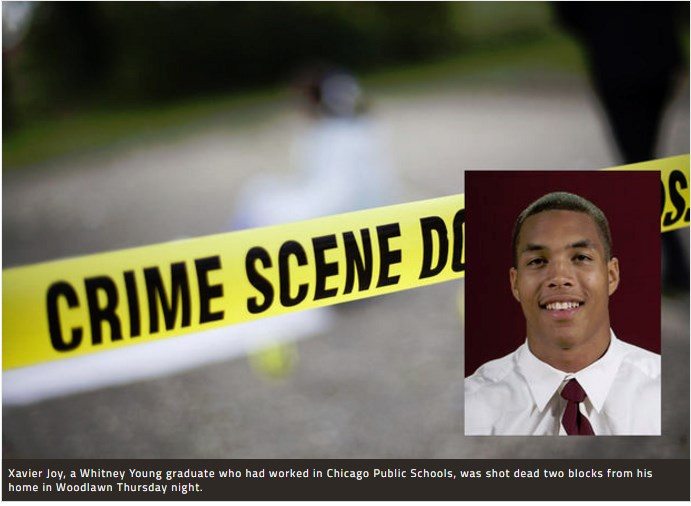 (Photo of Xavier Joy courtesy of Morehouse College)
He too wanted to live…
Last week, on the night of Thursday June 08, 2017, at 10:00 PM, Xavier Joy was gunned down, just two blocks from his home, on Chicago's south-side. He was a graduate of Whitney Young High School who majored in political science and played defense  on the  Morehouse College football team. He worked mentoring young students in both the Evanston and Chicago Public School Systems. Xavier Joy was the son of Chicago political reformer, Ra Joy, the executive director of CHANGE Illinois. As reported by ABC-7 Chicago, Xavier Joy was 23.
Not knowing but fearing the worst, I emailed Fran Joy this past Saturday, inquiring about what I hoped wouldn't be true. She quickly emailed back the following- "I was going to call you yesterday. Sad to say he is my step-grandson and we are all devastated. He was a good kid with great parents. I've known him since he was a baby. I'm very close to Ra, his dad. We are heart broken. Isn't it weird how you bought that painting? Maybe you were plugging in to this nightmare. I was out to his dad's last night. It's so awful. Very close knit family. Thanks for reaching out."
I am so proud to own this work of art painted by my friend Fran Joy. Yet, the sadness in my heart will always be felt, now more than ever, as I look into the eyes of the young man in her painting, and the words painted across his shirt- I want to live! Xaiver Joy, like many, has been denied.
Peace. I am Bob Danon, and integrity does matter.
Friday, June 16, 2017- There will be a wake at 11:00 AM, followed by a Memorial Service at Rockefeller Chapel, at the University of Chicago, at 12 noon. The address is 2800 South Woodlawn Ave., in Hyde Park.